Sharing some mini-stories I read on the Internet. Hope you enjoy!
He was three when he peed his pants. She took her own pants off and gave it to him. "Remember to give it back to me," she said.
He was thirteen when he was courting a beautiful girl. She shoved her wallet into his hands. "Remember to give it back to me," she said.
He was thirty-three when he lost his ring. She took off the identical ring from her finger. "Remember to give it back to me," she said.
He was forty-three when the plane was about to crash. She strapped the parachute on him and waved. "You don't have to give it back to me this time," she said with a smile.
**********
Many years after the breakup they met again by chance.
Man: "How are you doing?"
Woman: "Good."
Man: "How is he doing?"
Woman: "Good."
"How about yourself?" the woman asked.
"Good."
Woman: "How about her?"
Man: "She just told me she is good."
**********
Everyday I would take the subway together with my girlfriend to go to work. Then one day and every day after she always found the handsome young man waiting for her outside of the station leaned on his sports car and looking at her with a big smile. At first she simply ignored him. But the handsome man and his sports car consistently showed up on time every day. Gradually she treated me with less and less enthusiasm until the day when the handsome young man confronted her with a large bouquet of red rose and asked, "Will you leave him, please?" "Of course!" she said with excitement. "She no longer loves you," the young man turned to me, "be my boyfriend, will you?" I accepted the bouquet.
**********
She climbed in the taxi and then recognized him. They had been intimate lovers ten years ago and had decided to go separate ways under the heavy pressure from their parents, never seeing each other again.
"How are you?"
"I am good, you?"
"Good."
She noticed the watch on his wrist was still the same one she had given him.
When she was getting off, he heard the jingles from the bell strapped on her handbag, the one he had given her.
**********
It was night. The boy had the girl on the back of his motorcycle.
Girl: "Can you slow down? I am scared."
Boy: "Isn't this fun?"
Girl: "Please! I am scared."
Boy: "Alright. Tell me you love me."
Girl: "Fine. I love you. Can you slow down now?"
Boy: "Can you take off my helmet and put it on. It's making me very uncomfortable."
The next day in the news: One death and one survivor in a motorcycle crash. Malfunctioning brakes to be blamed.
**********
In the United States.
"Hello...oh, hi mom, what is it?"
"Nothing, I just miss you."
"Alright, mom. I am really sleepy. It's early in the morning here. How many times have I told you. Don't forget the 12 hours timezone difference."
"Oh, I forgot. Go back to sleep..."
Five minutes later.
"Gosh, who's calling this early again!"
"This is your uncle. Your mom's apartment building is on fire!"
Dialing back immediately.
"Mom! Mom! Pick up the phone!!"
Ring...ring...ring...
**********
She works in a highrise building in the jungle of the city. He works in the office in the same floor just across the street. Everyday she would secretly watch him, imagining his joy and sorrow and then record them in her blog. Then one day he disappeared suddenly. She felt as if a chunk was missing from deep inside her heart. "He left. I miss him but he doesn't know." she wrote in her blog. A new comment quickly popped out. "Silly! I just moved to the floor above."
**********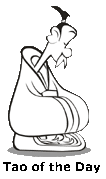 Appreciate what you have before they are gone!