This is a make up post!
This is the first ever "Robot of the Day" blog post, and I just feel obligated to designate this "honor" to Atom (aka 阿童木, Astro Boy), a fictional robot character created in Japanese manga (动画) and television animation series in the 1950-60s, because the lovable, brave, and peace-loving Atom inspired a whole generation of kids, some of whom went on to become robotics researchers (me included). Some people even claim that Atom was the big reason why Japan is at the forefront of android development today! In a WIRED magazine article, "The 50 Best Robots Ever", Atom was ranked at #2 dispite being only a fictional character. Impressive!!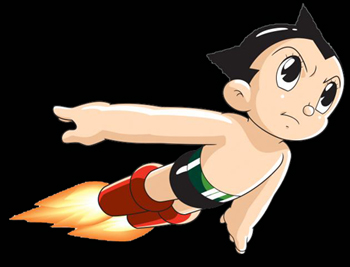 I still remember when I was just a little kid, the entire neighborhood of over 100 families shared one television set - a 14-inch color TV (this might give you some clues about how old I am), which was locked in an iron cabinet in a spacious openning by the neighbourhood. Every evening at around 6:30pm, people (mostly kids and some adults) would start taking spots in front of the TV cabinet with their small wooden stools. Of course, a good spot (close to the TV) might have required even earlier arrival. At exactly 7:00pm, the uncle in charge of the TV cabinet would unlock the cabinet and turn on the TV. As soon as the theme song started to play, the chaotic crowd would immediately quiet down and soon everyone was immersed in the adventures of a cute little robot named Atom. Ask anyone who was born in the 70s in China, he/she could probably still sing a few lines from the famous Atom theme song (see video below)....

The character Atom was created in 1952 as a comic character by Japanese comics artist, animator, producer and medical doctor, Osamu Tezuka (手冢治虫), who is often credited as "Father of Anima". The story was put on television in Japan from 1963 to 1966 and immediately achieved great success. The Atom series was remade in the 1980s as Shin Tetsuwan Atomu, which was also translated into English as the "Astory Boy" and broadcasted by NBC in the United States. The video below shows the opening theme for the English version of Astory Boy.

In the story, Atom was built by the head of the Ministry of Science on April 7, 2003, as a replacement for his son, who died in a car accident. Although Atom looked identical to his lost son, he soon realized that the little andriod was a failure because it was only a robot that doesn't grow or express human aesthetics. So he sold Atom to a circus. Professor Ochanomizu (茶水博士), the new head of the Ministry of Science, noticed Atom and managed to become his gardian. He also gave Atom seven special powers. Using these special powers, Atom fought crime, evil, and injustice.
Jet engines under his feet for flying;
Ability to speak 60 different languages;
Ability to distinguish good and evil;
1,000 times more powerful hearing than human;
Strong searchlights as his eyes;
Ass cannon (later changed to finger machine gun in the new TV series)
100,000 horse power (later improved to 1 million horse power)
In the story Atom was born in 2003. It is already 2008 now and we are still far from able to create a robot of Atom's caliber. However, the story of Atom does paint a good picture of what we'd like to achieve with robotic technology. Specifically, I look forward to the day when robots and human can peacefully and happily live together under the same sky.
Interesting facts:
In real life April 7, 2003, a Japanese city officially registered Atom as an honor citizen and issued certification of citizenship.
In 2009, a feature film version of Astro Boy is scheduled to hit the theater screens.

Bonus: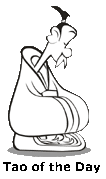 When you have good thoughts or ideas, write it down before you forget.